"Pizzas Are the Star Attraction at Radius"
The Raleigh News & Observer
by:
Greg Cox
Link to original article
October 3, 2013
Warning: If you have to go to the bathroom at Radius Pizzeria & Pub, brace yourself for a serious challenge to your willpower. You'll have to walk past the open kitchen, where owner/chef Mick Carroll and his crew are pulling pies from a stunning copper-clad, wood-fired Italian pizza oven. It's all too easy to get hypnotized.
Ooh, there's the Pizza del Mar, topped with achiote-marinated shrimp, black beans, mozzarella and cilantro on an olive oil base. Now he's scattering diced avocado across the top, the final touch before setting it in the pickup window.
Here comes the Gardener, a vegetarian cornucopia of house-roasted red peppers, organic spinach, artichokes, kalamata olives, tomatoes, red onions and feta on a foundation of smoked eggplant puree. And the Old Reliable S&P (sausage and pepperoni) – must have been ordered by a traditionalist. And that one must be tonight's pizza special: duck and sage sausage, roasted red peppers, mushrooms and fontina cheese.
And – wait a sec – is that the Paddy's Pie you ordered? And The Cyclist? Uh-oh, better get a move on, or they may be cold by the time you get back to the table. Once you do get back, you'll discover that the pizzas at Radius are every bit as good as they look. Paddy's Pie is a kaleidoscope of petal-thin slices of rosemary-roasted Yukon gold potatoes, thick crunchy house-cured bacon, cheddar cheese and chopped scallions. The Cyclist – onion marmalade, chicken, mushrooms, scallions, mozzarella and parmesan – is likewise a champ. Toppings on both are generous, but not so heavy-handed that they overburden a thin, blistery crust made with a naturally fermented dough of Italian 00 flour that is the pizza aficionado's gold standard.
Consistency of execution has improved markedly since Carroll opened Radius in late March with his wife, Kate (she runs the front of the house). In the first few weeks, underdone crusts were evidence that the kitchen was still learning the ropes of the notoriously temperamental wood oven. But Carroll, an Irish-born chef who cut his culinary teeth on the West Coast (including the Ritz-Carlton and Four Seasons in San Francisco), has clearly gotten a handle on things.
That's not to say that there isn't still the occasional off-night – like the time it took forever to get an appetizer order of roasted garlic mussels, which were overdone and too heavily breaded when they did finally arrive. Turns out we shouldn't even have gotten them. The chef had eighty-sixed the mussels earlier in the evening as not being up to snuff, but our server hadn't gotten the word.
That's an anomaly, though, based on my recent experience. On another night, fried calamari – commendably tender in a fragile, crisp breading – were served with a well-matched truffle marinara sauce. And sweet potato fries were as good as I've had anywhere.
Those looking for an alternative to pizza (though, for the life of me, I can't imagine why) are offered an assortment of panini, with options ranging from Heavenly Mushroom (marinated portobellos, garlic pesto hummus, spinach and mozzarella) to The Cowboy (grilled hanger steak, arugula, roasted red bell pepper, onion marmalade and horseradish cheddar). My only quibble is that the sandwiches could be grill-pressed with a little more authority to ensure that they're cooked through. A nightly entree special tempts with the likes of Cuban marinated pulled pork tacos, or house-made smoked kielbasa on a potato pancake. The featured dessert – peanut butter and banana cream pie, say, or flourless chocolate cake with Nutella cream cheese – is worth yielding to temptation.
Make no mistake, though: Pizzas are the star attraction.
And the bar plays a solid supporting role with a well-chosen selection of draft beers and cocktails such as the Honeysuckle (rum, lime and wildflower honey) and Paloma (tequila, grapefruit, lime and hibiscus syrup) crafted with fresh-squeezed juices and house-made syrups.
The atmosphere is suitably casual and warmly inviting, with colorful local art adding vibrancy to the brick walls of a space that was formerly home to a bank. Bicycle wheels and chainrings, set into a partition wall, are a clever play on the restaurant's name, echoing the image of Radius' specialty wood-fired pizzas.
When the weather is fair, a courtyard patio nestled between the restaurant and a neighboring building beckons, offering a charming view of historic downtown Hillsborough. If you time your meal right, you'll get to see the sunset over those historic buildings, and watch as swifts by the hundred return to their chimney roosts for the night.
It's almost as bewitching as watching those pizzas come out of the oven.
[raw]
"Radius Pizzeria & Pub"
The WEEKLY Dish
by:
Jessie Ammons
Link to original article
June 1, 2013
I was all worked up for a slice of pizza when I walked into Radius – and then I ordered a salad. While I do actually have a habit of doing that, this one really could not be passed up. The night's special was a Lobster Tail Salad, featuring lobster tail tossed in lime juice, olive oil, butter, salt and pepper and then mixed with grilled asparagus and steamed sugar snap peas before it's placed atop mixed greens and garnished with cilantro and garlic chive. Need I say more? It was served with a grilled, herbed, doughy bit of bread, and I was in heaven. Radius regularly rotates their specials so if the lobster tail's not around on your visit, the next best thing is their spinach salad, which comes with balls of goat cheese encrusted with walnuts and homemade sherry-truffle oil vinaigrette. Pizza shmeeza. $12 TW
"New Hillsborough Hangout: Radius Pizzeria"
Den Echoes - The Voice of Orange High School
by: Mia Maxwell
Link to the original article
May 1, 2013
A new and unique pizzeria has made its way to Hillsborough, NC. The new local restaurant is called Radius Pizzeria and Pub, and is located on 112 N. Churton St. The downtown addition is already a booming business, and they are open Tuesday through Thursday from 11 am to 10 pm and 11 am to 11 pm Thursday to Saturday. Dinner is not offered on Monday night.
Hillsborough locals Kate and Mick Carroll are the owners. They opened the pizzeria on March 15, putting their whole dream out there for Hillsborough to see. With the new restaurant comes jobs. Radius is actually still hiring, and is getting lots of students from local high schools applying. Their business email is info@radiuspizzeria.net. Their website, radiuspizzeria.net, is going to be up soon, as well.

The atmosphere at Radius is unlike almost any other place in Hillsborough. You walk in to see copper accents and bicycle wheel art pieces, which give the restaurant a really great rustic feeling. They also have an open bar that they did a very good job at keeping at distance from the family eating area. The employees there also give a great light to the place. They will engage in easy conversation about the architecture of the building, give you recommendations, and always have the nicest things to say.

As for the food choices, they have a wide menu of one of a kind pizzas, sandwiches, and salads. Prices are around $10-30 per person, depending on how much and what you get. They have classic Pepperoni Pizza and the Big Kid, a spaghetti and meatball pizza. The menu is something to see, and the food is something worth trying. It's definitely different from most pizzerias, which really draws customers in. The full menu is available on their Facebook page.

The new Hillsborough addition provides Hillsborough with work for its students as well as food for the community. It's a hit!
"Radius Brings Wood-fired Pizza to Hillsborough"
Raleigh News & Observer
by: Greg Cox
Link to original article
April 2, 2013
A wood-fired oven, custom-trimmed in copper, is the star of the show at Radius Pizzeria & Pub (112 N. Churton St.; 919-245-0601; radiuspizzeria.net), which opened last week in downtown Hillsborough. Burning local hickory, maple and oak, the oven turns out a varied assortment of pies, from the Cyclist (caramelized onions, mozzarella, mushrooms and herb-marinated chicken) to the Big Kid (spaghetti and sliced meatballs).
Owner/chef Mick Carroll, who comes to the Triangle from Ireland by way of San Francisco, plans to put the oven to further use. He's developing a selection of wood-fired appetizers (mussels with garlic, for one) and entree specials such as achiote-marinated double-cut pork chops, which he's planning to serve with yuca fries cooked in duck fat.
But Carroll's pride-and-joy oven is hardly the only attraction at Radius. The kitchen staff includes a couple of names that will be familiar to local foodies. Damon Lapas, erstwhile part-owner of The Barbecue Joint in Chapel Hill, is applying his meat-smoking skills to everything from New York strip steak to turkey breast for panini. Dania Gonzales, formerly chef of the Cuban restaurant Gregoria's Kitchen in Durham (which was closed by a fire), will contribute an occasional Latin accent to the offering.
The menu, which Carroll describes as featuring "world comfort food," is still taking shape. As the restaurant gets up to speed, look for the offering to expand to include a daily offering of soup, salad, pizza and panini specials.
Radius is a casual, family-friendly place with a full bar (including eight draft beers, all local). The restaurant serves lunch Monday-Saturday, dinner Tuesday-Saturday.
"A Radius of Love"
The Chapel Hill Herald
[/blockquote]
by: Jason Hawkins
Link to original article
April 13, 2013
Special to The Chapel Hill Herald | Jason Hawkins Mick (left) and Kate Carroll are owners of the new Radius Pizzeria & Pub at 112 N. Churton St. in Hillsborough.
HILLSBOROUGH —
It was all Luther's fault. The 120-pound Rottweiler was the reason Kate and Mick Carroll were introduced.
It was San Francisco and Luther was the pet of a mutual friend and Kate and Mick started talking. "I really just walked up and said hello," says Kate.

Now, because of a dog and a hello and the road they followed all the way to Churton Street in Hillsborough, where the two opened Radius Pizzeria & Pub recently, they both know this is where they are supposed to be.

Certainly, Luther would be proud. Kate grew up in Durham, attended Durham Academy and then Carolina Friends School, and eventually studied at East Carolina University, graduating in 1992. She traveled to San Francisco where she owned Earth & Sky Oasis, a health and wellness center, before selling the business and becoming a full-time mom to twin boys, now 3.

When he was in Ireland, Mick was a dairy farmer, sheep farmer, then vegetable farmer. He has worked in castles, the Ritz Carlton, for George Lucas, and he was once head chef at the San Francisco Zoo, where he catered events and weddings.
"He is a really hard worker," Kate says of Mick.

"I just love working with people and staying busy," Mick says of his culinary pedigree.
Word about the new restaurant quickly spread through town, exciting residents. "This town is so receptive and supportive. We had city staff reminding us and helping us. We've had our landlord assisting with making phone calls. And, the manager of Wooden Nickel Pub has sent staff over here to help and has offered his services as we get our business off the ground," says Kate.

Since the restaurant opened, the aroma of hickory and oak have permeated downtown, tempting visitors and residents alike. "We cook our pizzas in a copper oven we designed and named Penny," says Mick.
Using his diverse experiences as a chef, Mick leads the kitchen staff and blends his niche for creative taste that is found throughout the menu. "Our dough is dough that is from a natural fermentation process. I have a master sponge made from pineapple juice, water and flour and the enzymatic growth begins the transforming process of making pizza dough," says Mick.

Upon opening, Radius Pizza has worked to work out the kinks of opening a new restaurant and has only focused on a tamed-down menu, before unveiling featured entrees that will soon be served. "I am big on comfort food and we will have comfort food on our menu," says Mick.

His idea of comfort food will range from short ribs to pork chops to lighter fare that will be available seasonally.
The restaurant offers both indoor and outdoor dining and the décor and artwork offer eye candy for patrons while chewing wood-fired pizza.

Kate and Mick are hoping to continue their own personal beliefs of balancing work and play, and serving food to anyone. "This is a place you can come straight from the field or from the boardroom," says Kate. Or, you could come from school. "We offer a kids night every Tuesday from 3 to 5 p.m. and this is a time that a kid can come and make their own pizza. They use their hands, see the dough form, and watch us place the pizzas in the ovens," says Kate. "We wanted to do something with this restaurant that blends our interests in having a place that we can visit with our own kids and share this with them, too."

Still, there is something beyond the copper-plated oven, kids theme and delicious entrees. "This restaurant brings out our strengths," says Kate. Both Kate and Mick share a love of the outdoors, family and staying busy.

They also live, cook, play, manage a restaurant, and parent. Of how they survive and exist, sharing every aspect of their lives, Kate said that building this business has, unexpectedly, strengthened their relationship with each other. "I did not expect this to pull our strengths out. However, as our goal matured and seeing where we both offset each other, it is really special that we can work and live and be together," says Kate.

Both Kate and Mick attribute much of their success to the encouragement from friends and the support of grandparents that are in the immediate area. They are both inspired by the name Radius and they feel that it will allow the restaurant to become a place that is neither limited nor boxed. "We cannot stress enough how supportive and unique this town is. We also want all to know that all are welcome here," says Kate.
"Pizzeria coming to Churton Street"
The News of Orange County
Link to original article
January 18, 2013
Amid the flurry of ripped-up carpet, circular saws and decisions on what to save, Kate and Mick Carroll are turning their dream into a reality.
The building at 112 N. Churton St. once hosted county employees and before that bankers. But if everything goes to plan, come mid-March, it will house downtown Hillsborough's latest restaurant: Radius Pizzeria and Pub.
And with how much things have changed, it's incredible what will be staying the same.
Inside, the green carpet gave way to original terrazzo floors. A semi-private corner that was once a bank manager's office will see new life as a cozy dining area. The bank's vault will be transformed into a wine and liquor cellar.
Outside, the narrow alley will be closed off and turned into outdoor seating.
The Carrolls have been working hard to make the changes they need to turn the erstwhile county government offices into a restaurant but to be as respectful of the building's origins as possible.
"That's the delicate dance," Kate Carroll said. "We want so badly for people who have connection to this building to come in here and say, 'It has been given new life, but it's good; it's still our building, and they've kept the best parts of this building.' We hope desperately that that's what people feel."
And the response so far to both the renovations and the idea itself has been tremendous.
"Hillsborough has just got so much diversity and so much complexity," Kate Carroll said. "It's such a welcoming, open community. We have just been blown away by how much help we've received, by how much support we've received from people, how many just 'atta boys' we've been getting from folks. People are just bending over backward to help us make our dream come alive, and they're excited about it. That's at least half the battle when you're opening up a business."
The Carrolls' vision for Radius is simple; they're creating a place where all kinds of people can come together and enjoy delicious food.
And, with pizza, it all starts with the dough.
Chef Mick Carroll will be creating the pizza's base—which will come in regular and gluten-free forms—from scratch. And that includes what's known as the mother starter; instead of dry yeast, Mick Carroll will create the cultures himself.
"They call it a starter or a mother starter," Kate Carroll said. "You keep it alive; you keep feeding it. The complexity just grows and develops and develops. So, we've got a really beautiful sourdough kind of flavor to it and just a lovely texture to it. I think [Mick] said it beautifully because [he] said the pizza dough becomes a part of the flavor instead of just this plate for toppings to go onto."
But the flavorful crust is just the beginning. Mick Carroll said though they will have the usual pizza suspects—piled high with cheese and toppings—he also will include creations with a little bit more depth, focusing on herb rubs and different kinds of wood in the brick-oven to bring out different flavors.
"Mainly hickory, maple and oak will be the woods that we'll be burning," he said. "They're fairly plentiful here but mainly because of the flavor. Maple has terrific flavor; oak has and also hickory, so that'll bring on a little bit of flavor to the pizza as well. Between that and the sourdough and the fresh herbs, I think it will bring terrific flavor to the pizza."
Radius will also offer panini, fresh salads and pizza by the slice for quick to-go lunches, something Kate Carroll said is needed for those who want something delicious but don't have time for a sit-down meal.
Of course, for those who have time to linger, there will be specials at lunch and dinner; Mick Carroll, who grew up in Ireland and was classically French trained, said he has a fondness for world fusion comfort food.
But most of all, Kate and Mick Carroll said they hope Radius will have a come-as-you-are vibe that allows young and old to enjoy each other's company.
"We have 2 1/2-year-old twins, and one of our sort of tenets of the business is we believe that children and adults can dine together in a happy, relaxed environment," Kate Carroll said. "It doesn't have to be one or the other. We're really social people. We really enjoy entertaining, and we love being around kids, and we want to create an environment where it's not an either or proposition. We also believe gourmet food doesn't have to be expensive or fussy."
"Pizzeria to open on Churton Street"
Chapel Hill Herald - The Buzz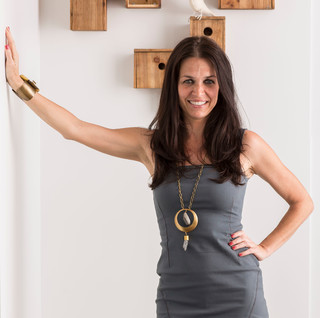 by Laura Oleniacz
December 22, 2013
Hillsborough pizzeria: A couple is planning to open a new restaurant and bar called Radius Pizzeria in Hillsborough in March in a renovated, 3,300-square-foot space at 112 N. Churton St. that previously housed Hillsborough Savings and Loan.
Kate Carroll is opening the restaurant with her husband and chef Mick Carroll. She said they're waiting on the building permits needed to begin the interior construction. The space previously was used as offices for the Orange County government, she said, and prior to that, it was used as a bank.

"We're trying to marry both the existing architecture of the space, which is a 1960s, wood panel, kind of bank-y square interior, and kind of meld that into something that's more informal, more relaxed, and more open," Carroll said.
They're planning to use the bank vault as liquor storage, and to use the old marble countertops in the bar, Carroll said. They're planning to resurrect the terrazzo floors, which were covered in carpet. The bar will be separated from the dining room with a metal partition, she said. They'll have a wood-fired oven that will be visible to customers.

Carroll said they want to source the ingredients for their food locally as much as possible. They will also have to-go options, a child-friendly menu, and gluten-free options. They're planning to offer a time each week for children to make their own pizzas.

"We wanted to make this a really family-friendly restaurant, we wanted to make it affordable for folks," she said.